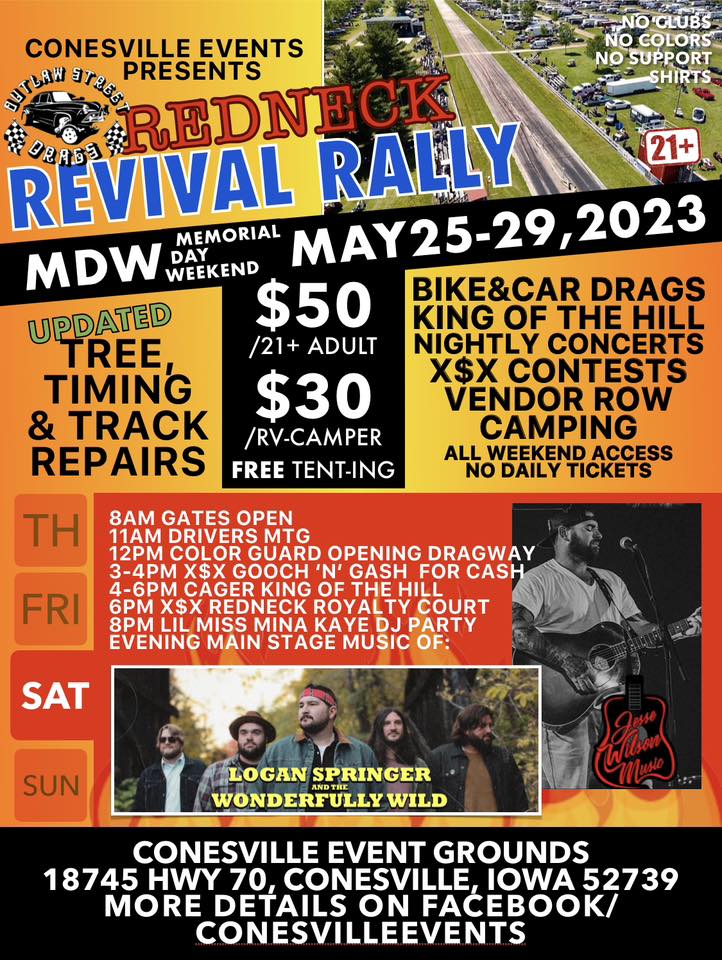 May 25-28, 2023
Lovers Playground is a sponsor for this year's event!
Conesville Redneck Revival RALLY is an ADULT, Ages 21 and Older, Only Event

An Old School Long Running Adult Outdoor Festival with many Acres of Camping, Music Performances and Entertainers, Vendor Lanes, Party Buildings, Bike Drag Racing Competition & occasional Adult Night Competitions.

Conesville Event Grounds Is Private Land - Campground - Show Grounds - Drag Strip - Sand Drags - Play Palace

Up to the minute details are also on the facebook: Conesville Events.
Schedule
THURSDAY, MAY 25TH
Noon: Gates Open
8PM – MIDNIGHT: Perv Party Theme = CEOs & Office Hoes
8PM – 9PM: BOGO Beer! 1-Hour Only!
9PM – 11PM: Perv Package & Frisky Friends Auction

FRIDAY, MAY 26TH
Noon – 6PM: Dragway Open
6PM: DJ Lil Miss Mina Kaye! (One Eyed jacks)
7PM: Camp Smitty's Titty Krewe Parade (New Orleans Style)
8PM: The Gingers (Main Stage)
9PM: The Eliminator Band (Main Stage)

SATURDAY, MAY 27TH
11AM: Drivers Meeting & Q&A
Noon: Color Guard Opening Dragway
1PM: Coin Draw for # & LN (Let the CKOH begin!)
3PM: X$X -GOOCH'n'GASH4CASH (Coed Naked Mud Pit Run)
4PM – 6PM: Open Track
6PM: X$X - Redneck Royalty Court, X$X - King & Queen Contests (Stripper Stage)
8PM: DJ Lil Miss Mina Kaye Party! (One Eyed jacks)
8PM: Jesse WIlson followed by Springer & The Wonderfully Wild (Main Stage)
Late Nite: XXX - What T-Shirt Contest (Stripper Stage - *New Location*), Followed by Burn Out Box Open
SUNDAY, MAY 28TH
5PM: Wine Down Party with Live Music by Pearl & Jesse Wilson, Table Games, Wine & Chill (One Eyed Jacks)
VENUE

Conesville Event Grounds & Dragway
18745 HWY 70,
Conesville, IA 52739

More Info

ADDITIONAL DETAILS

Date:
May 25-28, 2023

Time:
May 25th: Gates Open at Noon

Gate Fee:
$50/Adult

Accommodation Fee:

$30/Camper or RV you bring in
FREE Tent Camping