SPRING TIME LADIES NIGHT IN DEKALB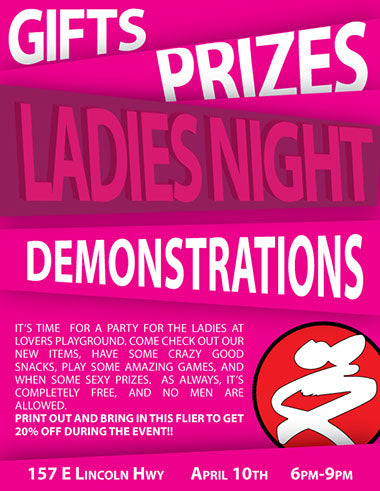 April 10, 2015
Hey Ladies! Spring has sprung, so we think it's time for you to have a bit of fun!
We are setting aside a special night just for you! That's right! No men are allowed access to this shindig! Even our male employees will be absent. 
Ladies nights are the best way to check out Lovers Playground!
Join us for games, snacks, product demos, and awesome prizes! Everyone will take something home! Best of all, it's completely free to attend!
Space is limited, so be sure to arrive early! And don't forget to tell your friends to tag along!
This is an 18+ event. A valid state issued ID must be provided to gain entry.
VENUE

Lovers Playground
157 East Lincoln Highway
DeKalb, IL 60115

More info

ADDITIONAL DETAILS

Date:
April 10, 2015

Time:
6:00 pm - 9:00 pm

Cost:
Free